About Our Nursery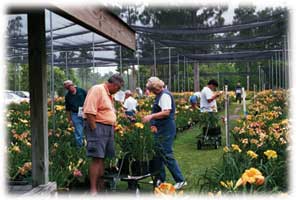 Roycroft Daylily Nursery, located 39 miles south of Myrtle Beach and, 57 miles north of Charleston, is a container-grown daylily nursery and an official AHS (American Hemerocallis Society) National Display Garden.
We grow daylilies exclusively and the nursery is staffed by personnel who are anxious to be of service to you. We are open mid-March thru September, Monday thru Saturday, from 9:00 am until 4:00 pm. Please call for appointment should you wish to visit October through mid-March.
Our continuous goal is to grow 700+ daylily cultivars of the highest qualities (from the 60,000+ registered cultivars developed by many hybridizers) and offer those of which we have adequate stock to our world-wide customers. We both add and discontinue cultivars annually in order to try our very best to stay on the "cutting edge" in the world of daylilies!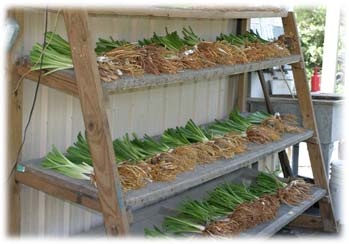 We also hybridize at the nursery and have introduced for four hybridizers. The Introductions by Cindy Cribb, Bob Roycroft, and Bob Roycroft Jr. were all hybridized and grown at the nursery. The Introductions by Wyatt LeFever were hybridized and grown for increase at his home in Kernersville, NC, and shipped to our nursery for potting and lining out in beds. (Most of Wyatt's introductions are prefaced by the word "FORSYTH".)
Our container stock ranges from a low of 10,000 to high of 15,000 pots during the year. We also have 24 raised AHS Display beds, with each cultivar labeled-- giving hybridizer's name--on both sides of the "T" stakes we use and also sell. The beds are irrigated, well fertilized, and mulched with pine straw. We admire the many hybridizers who are represented in our Display Garden and present their introductions to the best of our ability for the benefit of our customers, the general public, the hybridizers, and AHS Garden Judges who frequent our Nursery and AHS Display Garden.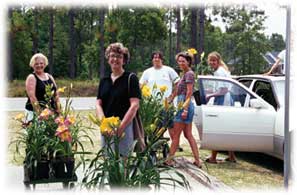 Thanks to the thousands who visited our Official American Hemerocallis Society Daylily Display Garden and container daylily Nursery this past year! Our lounge has a restroom, water cooler, drink machine, TV, computer, and a vast photo gallery that is displayed on the walls. There is also a picnic table on our wrap-around porch. Tag-alongs like to "hang out" in the air-conditioned lounge with other tag-alongs. Many of our customers like to walk around with our easy-to-pull heavy-duty wagons and select their own container-grown plants. This is simplified by our coded location system.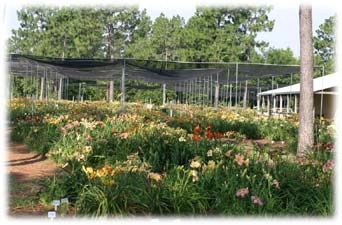 Thanks to our mail-order customers for your continued support! Should you be dissatisfied with your daylilies when you open the box please call us on our toll free number and we will instruct you on returning for a refund. Mail orders are shipped from mid-March through October. Please specify your desired shipping date. WE PUT TOP PRIORITY ON SHIPPING! Even so, the earlier you place your order the better your chances of shipment on your specified date and our not being "sold out" of that special daylily you want!" This is a full-time operation and our reputation hinges on shipping quality daylilies as promptly as possible!
We encourage you to consider sending daylilies or gift certificates to family and friends for special occasions. Daylilies are much appreciated gifts which will be enjoyed for many years!!!
Rowland Alston (second from left), host of the TV program "MAKING IT GROW", interviews Bob Roycroft Sr. in late September, 2003, for a program which included images featuring late blooming cultivars.