About Our Nursery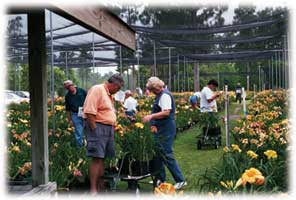 Hemingway Nursery, located 53 miles west of Myrtle Beach and, 83 miles north of Charleston, is a container-grown daylily nursery and an official AHS (American Hemerocallis Society) National Display Garden.
We would be honored by your visit to our nursery to view our display beds and container-grown daylilies. It would be our pleasure to be of service to you. Nursery open hours vary throughout the year; you may find our current hours of operation given on our home page.
Our continuous goal is to grow daylily cultivars of the highest qualities (from the 65,000+ registered cultivars developed by many hybridizers) and offer those of which we have adequate stock to our nation-wide customers. We both add and discontinue cultivars annually in order to try our very best to stay on the "cutting edge" in the world of daylilies!
We also hybridize at the nursery and have introduced for five hybridizers. The Introductions by Cindy Cribb, Bob Roycroft, Bob Roycroft Jr., and Lucille Williams, were all hybridized and grown at the nursery. The Introductions by Wyatt LeFevre were hybridized and grown for increase at his home in Kernersville, NC, and shipped to our nursery for potting and lining out in beds. (Most of Wyatt's introductions are prefaced by the word "FORSYTH".)
We have 40 raised AHS Display beds with each cultivar labeled on metal markers and giving the hybridizer's name. The beds are irrigated, well fertilized, and mulched with pine straw. We admire the many hybridizers who are represented in our Display Garden and present their introductions to the best of our ability for the benefit of our customers, the general public, the hybridizers, and AHS Garden Judges who frequent our Nursery.
Many of our customers like to walk around with our easy-to-pull heavy-duty wagons and select their own container-grown plants. This is simplified by our coded location system.
Thanks to our mail-order customers for your continued support! Should you be dissatisfied with your daylilies when you open the box please call Lucille or Scott. We offer a one-year guarantee on all of our daylilies. Should the daylilies you purchase from Hemingway Nursery not survive for at least a year, we'll replace the flowers with the same or better varieties an no cost to you, except shipping. Daylilies are shipped from March through October. Please specify your desired shipping date. We put top priority on shipping. Even so, the earlier you place your order the better your chances of shipment on your specified date and our not being "sold out" of that special daylily you want. Our reputation hinges on shipping quality daylilies as promptly as possible!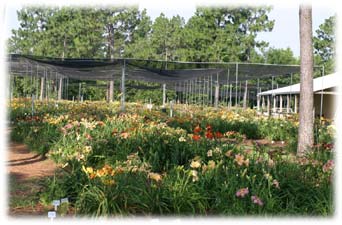 We encourage you to consider sending daylilies or gift certificates to family and friends for special occasions. Daylilies are much appreciated gifts which will be enjoyed for many years!!!
Hemingway Nursery will open to the public beginning March 1, 2020.
*We invite everyone to visit with us in June, 2020, as we'll be hosting our welcome celebration at Hemingway Nursery, after relocating from our past location at Roycroft Daylilies in Georgetown. More information with day/time, etc. will be provided on our website*