WEST VIRGINIA TRIBUTE
Currently In Stock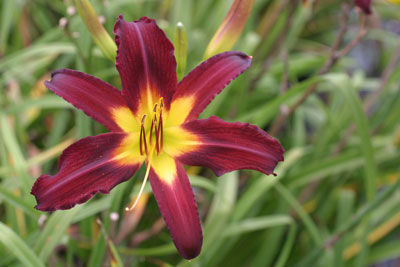 Available Photos: | High-Res | Clump Shot | Standard |
Hybridizer: Roycroft
Bloom Diameter: 7.5"
Foliage: DOR
First Blooms: Early mid-season
Last Rebloom: Very late
Type: Tetraploid
Scape Height: 36"
Flower Color: Red
Eyed Daylily: No
Flower Form: Spider
Fragrance Level: NOT
Climate: 3-9

WEST VIRGINIA TRIBUTE

A spider variant. One of the best and most reliable late bloomers ever! It is an ever-bloomer from the early mid-season through the very late season! Up to 5-way branching; 26 bud count. The longest blooming large flowered cultivar that we have ever seen! A spectacular bud-builder with many reblooms. A sunfast burgundy flower with a chartreuse throat. Clumps produce a multitude of tall scapes loaded with blooms! A vigorous grower which reaches clump size fast and is a blooming "machine"!

Named for, and in appreciation of, our many West Virginia daylily friends who visit our nursery and/or mail order from us each year. (A Ruby Spider kid.) See the High-Res or Clump image for an amazing shot showing an abundance of scapes loaded with blooms and buds! Universally grown!