MEGAN'S MOONFIRE
Currently In Stock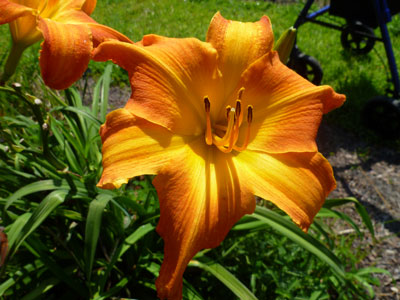 Available Photos: | High-Res | Clump Shot | Standard |
Hybridizer: Roycroft
Bloom Diameter: 10"
Foliage: DOR
First Blooms: Early mid-season
Last Rebloom: Very late
Type: Tetraploid
Scape Height: 33"
Flower Color: Orange
Eyed Daylily: No
Flower Form: Unusual Form
Fragrance Level: NOT
Climate: 3-8

MEGAN'S MOONFIRE

10 inch blooms! A huge and showy bright orange flower with a gold throat. This cultivar is one of the most commented on daylilies in our nursery; everyone wants it! Will be a superstar in your garden during your late and very late bloom seasons! The fans are the size of corn stalks! Spectacular! Some blooms have measured up to 11" in diameter. A prolific rebloomer. 3-way branching; 19 bud count. Fertile both ways. A 'Tom Wise' x 'Primal Scream' kid. An excellent parent-- pod and pollen-- for large flowered seedlings!

Special Price Available!
Order 1 or more double fans and receive a 20% discount.