MURRELLS INLET GEM
Limited Stock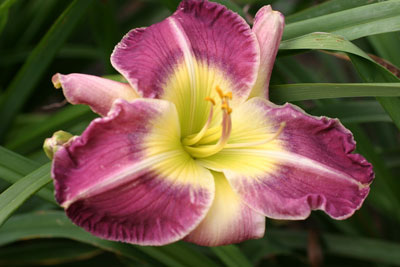 Available Photos: | High-Res | Standard |
Hybridizer: Roycroft
Bloom Diameter: 6"
Foliage: DOR
First Blooms: Early mid-season
Last Rebloom: Late mid-season
Type: Diploid
Scape Height: 24"
Flower Color: Lavender
Eyed Daylily: Yes
Flower Form: Single
Fragrance Level: FR
Climate: 4-8

MURRELLS INLET GEM

Stunning! A beautiful lavender flower with a darker bluish-lavender halo, bold white midrib, and large yellow to chartreuse throat. The petals are bordered by a fine pencil-line near white edge. 3-way branching; 14 buds. Fertile both ways. (An Angel Rodgers kid.)

Special Price Available!
Order 1 or more double fans and receive a 50% discount.