WHITEHALL SPECIAL
Currently In Stock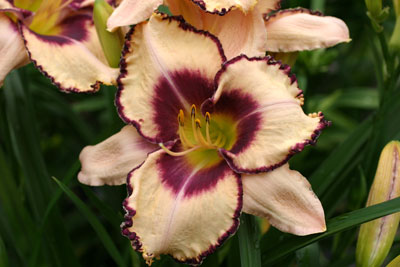 Available Photos: | High-Res | Clump Shot | Standard |
Hybridizer: Roycroft
Bloom Diameter: 5.75"
Foliage: EV
First Blooms: Early mid-season
Last Rebloom: Late mid-season
Type: Tetraploid
Scape Height: 25"
Flower Color: Cream
Eyed Daylily: Yes
Flower Form: Single
Fragrance Level: NOT
Climate: 5-9

WHITEHALL SPECIAL

A cream colored flower with a mahogany eye, chartreuse throat, and a mahogany edge bordered by a silver picotee. Puts on a mass of scapes and blooms when at clump strength! A sibling of WINYAH JEWEL. 3-way branching; 14 buds.

Roycroft original. Only available at Hemingway Nursery.