BURGUNDY GIANT
Currently In Stock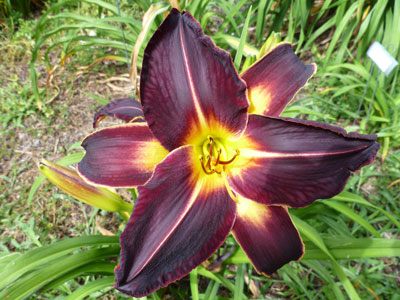 Available Photos: | High-Res | Standard |
Hybridizer: Roycroft
Bloom Diameter: 7.75"
Foliage: SEV
First Blooms: Early mid-season
Last Rebloom: Late mid-season
Type: Tetraploid
Scape Height: 32"
Flower Color: Burgundy
Eyed Daylily: No
Flower Form: Unusual Form
Fragrance Level: NOT
Climate: 3-9

BURGUNDY GIANT

A UFO (unusual form). Grew and increased an extra year before introducing; thus the lower introduction price. A dark burgundy flower with a chartreuse throat and bold light midribs. A near white picotee encircles sepals; partial on petals. 3 way branching; 14 buds. Universally grown. A second generation 'Super Giant' kid. (Was seedling tet-05-332-Super Giant f2.)

Special Price Available!
Order 2 or more double fans and receive a 10% discount.