GARDEN ACCENT
Limited Stock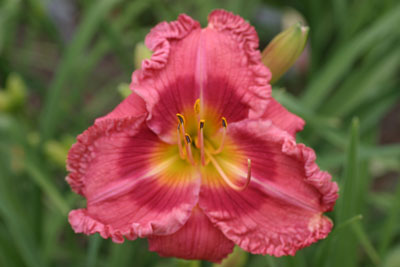 Available Photos: | High-Res | Clump Shot | Standard |
Hybridizer: Roycroft
Bloom Diameter: 6.5"
Foliage: SEV
First Blooms: Mid-season
Last Rebloom: Very late
Type: Diploid
Scape Height: 26"
Flower Color: Rose
Eyed Daylily: Yes
Flower Form: Single
Fragrance Level: VFR
Climate: est 4-9

GARDEN ACCENT

A rose colored flower with a darker eye and chartreuse throat. Numerous rebloom scapes recur into the very late bloom season. Up to 5-way branching; 22 bud count. (Was seedling 05-361-Rz Show; a 'Rose Showoff' kid.) For information 'Rose Showoff' is one of my best two diploid parents. And, 'Lavender Blue Baby' was the pod parent of 'Rose Showoff'. Roycroft original. Only available at Hemingway Nursery.