CONNIE'S BLESSINGS
Currently In Stock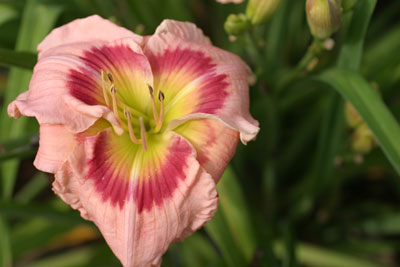 Available Photos: | High-Res | Clump Shot | Standard |
Hybridizer: Roycroft
Bloom Diameter: 6"
Foliage: DOR
First Blooms: Early mid-season
Last Rebloom: Late mid-season
Type: Diploid
Scape Height: 32"
Flower Color: Pink
Eyed Daylily: Yes
Flower Form: Single
Fragrance Level: FR
Climate: est 4-8

CONNIE'S BLESSINGS

Named in honor of a very special lady and classmate who has been a blessing to many as well as having received many blessings herself! This fabulous cultivar has a beautiful pink flower with a radiating red eye and green throat. Up to 6 way branching; 44 bud count. Produces very large and vigorous fans. Admired by many the last two summers before we registered it. A Rose Showoff kid.

This was seedling dip-05-412- Rz Show.