BOB'S RED SURPRISE
Limited Stock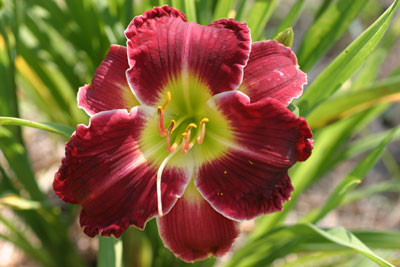 Available Photos: | High-Res | Standard |
Hybridizer: Roycroft
Bloom Diameter: 6"
Foliage: SEV
First Blooms: Early
Last Rebloom: Late mid-season
Type: Diploid
Scape Height: 31"
Flower Color: Red
Eyed Daylily: No
Flower Form: Single
Fragrance Level: NOT
Climate: est 4-8

BOB'S RED SURPRISE

A beautiful bright red flower with a white picotee edge and a chartreuse throat. An excellent performer. Up to 4-way branching; 19 bud count.

Roycroft original. Only available at Hemingway Nursery.

Limited stock, only 1 2-Fan per order please.