APPALACHIAN SNOW
Currently In Stock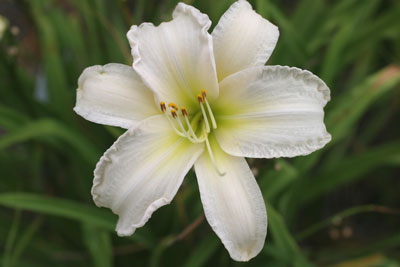 Available Photos: | High-Res | Clump Shot | Standard |
Hybridizer: Roycroft
Bloom Diameter: 7"
Foliage: SEV
First Blooms: Late mid-season
Last Rebloom: Very late
Type: Diploid
Scape Height: 24"
Flower Color: Near White
Eyed Daylily: No
Flower Form: Single
Fragrance Level: NOT
Climate: est 4-9

APPALACHIAN SNOW

White daylilies are rare and stand out in a flower bed. This outstanding performing cultivar displays amazing shows of large very white flowers. Similar to its pod parent 'Carolina Snow' but blooms later and with larger blooms. Puts on a fabulous late bloom season showing off blooms in mass. See the unbelievable clump shot for an example!