SCARLET'S FAITH
Currently In Stock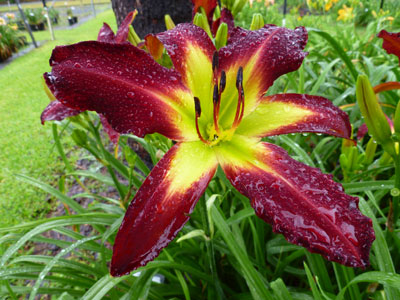 Available Photos: | High-Res | Standard |
Hybridizer: Roycroft
Bloom Diameter: 9"
Foliage: SEV
First Blooms: Early mid-season
Last Rebloom: Late
Type: Tetraploid
Scape Height: 36"
Flower Color: Red
Eyed Daylily: No
Flower Form: Unusual Form
Fragrance Level: FR
Climate: est 3-9

SCARLET'S FAITH

36" tall with a 9" flower! Fabulous! A brilliant scarlet red colored flower with a large yellow to chartreuse throat which significantly spills onto the sepals. Up to 5-way branching; 21 bud count. Excellent substance; picture was taken after flower had been in 4 continuous hours of rain. Parentage is Samar Star Fire x Slipping Into The Abyss.

Note: Was formerly test sold as seedling #09-528-SSF and also by our garden name of "Kay's Faith 2". Since it was so popular we decided to register and introduce. So, here it is!