BUCKEYE SCARLET 2
Currently In Stock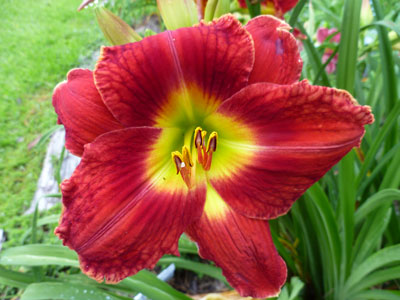 Available Photos: | High-Res | Standard |
Hybridizer: Roycroft
Bloom Diameter: 6"
Foliage: SEV
First Blooms: Early mid-season
Last Rebloom: Late mid-season
Type: Tetraploid
Scape Height: 28"
Flower Color: Red
Eyed Daylily: No
Flower Form: Single
Fragrance Level: NOT
Climate: est 4-9

BUCKEYE SCARLET 2

Very impressive! A lady from Ohio suggested this name. This cultivar has a bright scarlet red flower with a yellow to chartreuse throat. Very vigorous; produces huge fans. Good branching and bud count. Many nursery visitors were impressed by this outstanding cultivar. A 'Tyler's Cove' kid.

Note: This is our garden name for this unregistered cultivar.