A SUMMER PLEASURE
Currently In Stock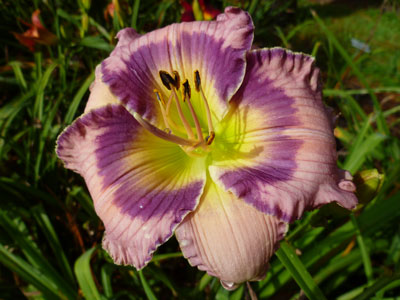 Available Photos: | High-Res | Standard |
Hybridizer: Roycroft
Bloom Diameter: 5"
Foliage: DOR
First Blooms: Mid-season
Last Rebloom: Late
Type: Diploid
Scape Height: 33"
Flower Color: Lavender
Eyed Daylily: Yes
Flower Form: Single
Fragrance Level: FR
Climate: est 4-8

A SUMMER PLEASURE

A bitone. The flower has lavender colored petals, with slightly lighter sepals. It has a grape eye, a grape edge topped with a thin silver filagree, and a chartreuse throat. The double edge is extremely rare with diploids. 3 way branching; 15 bud count. (A 'Rose Showoff' kid.)

Note: Was formerly test sold as seedling 09-505-Rz Show and also by our garden name of "Mask Of Winyah 2". Since it was so popular we decided to register and introduce. So, here it is!

Special Price Available!
Order 1 or more double fans and receive a 20% discount.