A SUMMER PLEASURE
Currently In Stock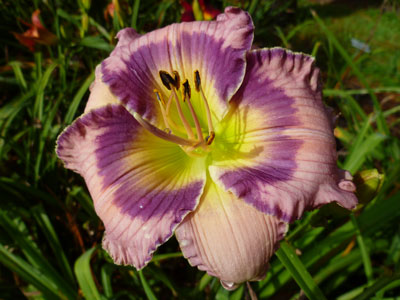 Available Photos: | High-Res | Standard |
Hybridizer: Roycroft
Bloom Diameter: 5"
Foliage: DOR
First Blooms: Mid-season
Last Rebloom: Late
Type: Diploid
Scape Height: 33"
Flower Color: Lavender
Eyed Daylily: Yes
Flower Form: Single
Fragrance Level: FR
Climate: est 4-8

A SUMMER PLEASURE

A bitone. The flower has lavender colored petals, with slightly lighter sepals. It has a grape eye, a grape edge topped with a thin silver filagree, and a chartreuse throat. The double edge is extremely rare with diploids. 3 way branching; 15 bud count. (A 'Rose Showoff' kid.)

This is a Roycroft Original. Only available at Hemingway Nursery.