BOB'S GOLDEN CHOICE 2
Currently In Stock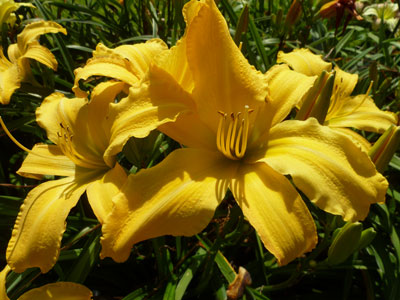 Available Photos: | High-Res | Clump Shot | Standard |
Hybridizer: Roycroft
Bloom Diameter: 7.5"
Foliage: DOR
First Blooms: Mid-season
Last Rebloom: Late
Type: Tetraploid
Scape Height: 32"
Flower Color: Gold
Eyed Daylily: No
Flower Form: Unusual Form
Fragrance Level: NOT
Climate: est 4-8

BOB'S GOLDEN CHOICE 2

This seedling has tall scapes and a huge gold to coppery gold flower with a faint light green heart. Tall and large golds stand out in a garden and are in great demand. (A 'Megan's Moonfire' kid.)

Note: This is our garden name for this unregistered cultivar. If and when registered the price will be much higher.

Special Price Available!
Order 1 or more double fans and receive a 20% discount.