HEAVENLY UNITED WE STAND
Limited Stock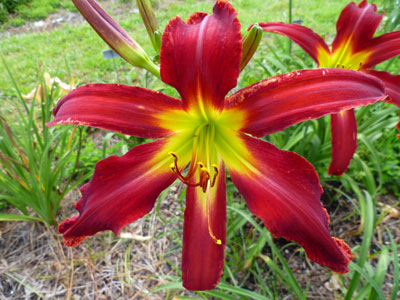 Available Photos: | High-Res | Standard |
Hybridizer: Gossard
Bloom Diameter: 9"
Foliage: DOR
First Blooms: Mid-season
Last Rebloom: Very late
Type: Tetraploid
Scape Height: 51"
Flower Color: Red
Eyed Daylily: No
Flower Form: Unusual Form
Fragrance Level: FR
Climate: 3-10

HEAVENLY UNITED WE STAND

The 2017 Stout Silver Medal winner! This award is only given to one cultivar each year! This cultivar produces 9" sun fast blood red flowers with a nice green throat. It has the total package, excellent color, bud count, branching, cold hardy genes, large flower size, height, blue green foliage, bud builder, and super plant habit. Outstanding plant traits and habits. Near perfection! It grows superbly from zones 3 to 10. Up to 7 way branching and 38 bud count!