FORSYTH ACE OF HEARTS
Currently In Stock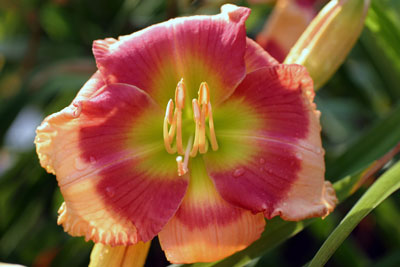 Available Photos: | High-Res | Clump Shot | Standard |
Hybridizer: LeFever
Bloom Diameter: 5.5"
Foliage: SEV
First Blooms: Early mid-season
Last Rebloom: Late mid-season
Type: Diploid
Scape Height: 28"
Flower Color: Pink
Eyed Daylily: Yes
Flower Form: Single
Fragrance Level: FR
Climate: 3-9

FORSYTH ACE OF HEARTS

See the spectacular clump shot to appreciate this cultivar blooming at clump strength! An amazing ruffled peachy pink flower with a 4"+ round bright red eye that covers much of the flower. Very fertile and distinctive! Fragrant. Universally grown! A fabulous parent; the pod parent of the fabulous Forsyth Red Eyed Whopper Stopper; the pollen parent of the new Forsyth Princess Leah! (A VOLCANIC EXPLOSION kid.)

Special Price Available!
Order 2 or more double fans and receive a 20% discount.