MARY'S GOLD
Currently In Stock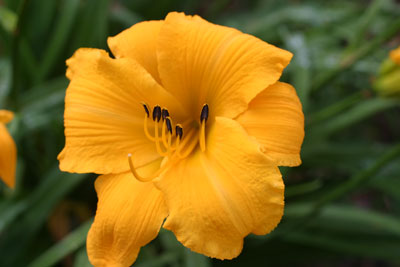 Available Photos: | High-Res | Clump Shot | Standard |
Hybridizer: McDonald
Bloom Diameter: 6.5"
Foliage: DOR
First Blooms: Early mid-season
Last Rebloom: Late mid-season
Type: Tetraploid
Scape Height: 34"
Flower Color: Gold
Eyed Daylily: No
Flower Form: Unusual Form
Fragrance Level: NOT
Climate: 3-9

MARY'S GOLD

UFO (Unusual Form). Spectacular! An extremely prominent brilliant golden flower with a green throat. This will be a tall glowing beacon in your garden! (I, Bob Roycroft Sr., first spotted this fabulous cultivar blooming at the far side of another garden shortly after it was introduced. It was like a magnet; I walked straight to it and was extremely impressed! I immediately ordered it and it has been one of our most popular daylilies ever at our nursery!)

Special Price Available!
Order 1 or more double fans and receive a 20% discount.