ORANGE VELVET
Currently In Stock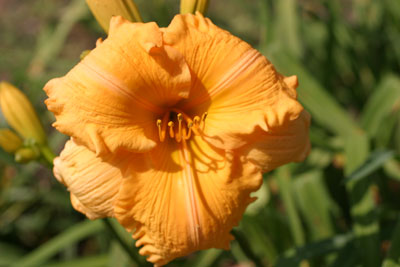 Available Photos: | High-Res | Standard |
Hybridizer: Joiner
Bloom Diameter: 6.5"
Foliage: SEV
First Blooms: Mid-season
Last Rebloom: Very late
Type: Diploid
Scape Height: 31"
Flower Color: Orange
Eyed Daylily: No
Flower Form: Single
Fragrance Level: NOT
Climate: 3-9

ORANGE VELVET

One of the best performing daylilies ever! The 1999 Stout Silver Medal 1st runner-up; the Stout is the American Hemerocallis Society's highest award! An intense medium orange flower with slightly lighter sepals. Earlier blooms are nice but later blooms are spectacular! We are amazed at the number of visitors at our nursery who say they do not need any more orange daylilies but who leave with ORANGE VELVET anyway! A great rebloomer in cold climates with the latest such report coming from Nebraska. Up to 6-way branching; 28 bud count.

One 2-Fan per order on this one please.