PASSION FOR RED
Currently In Stock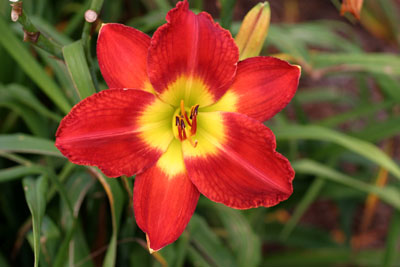 Available Photos: | High-Res | Clump Shot | Standard |
Hybridizer: Stamile
Bloom Diameter: 6.75"
Foliage: SEV
First Blooms: Early mid-season
Last Rebloom: Late
Type: Tetraploid
Scape Height: 30"
Flower Color: Red
Eyed Daylily: Yes
Flower Form: Single
Fragrance Level: FR
Climate: 3-9

PASSION FOR RED

An extremely prominent and fabulous brilliant scarlet red flower of great clarity; has a darker halo. The fans are the size of corn stalks! A heavy bloomer which is in tremendous demand; a huge seller at nursery! Long bloom season. Fragrant. Universally grown! See the High-Res image for an amazing clump shot!