PEARL HARBOR
Limited Stock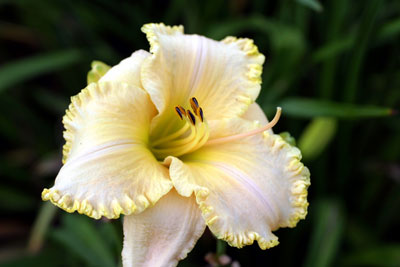 Available Photos: | High-Res | Clump Shot | Standard |
Hybridizer: Carr
Bloom Diameter: 5.75"
Foliage: EV
First Blooms: Mid-season
Last Rebloom: Late
Type: Tetraploid
Scape Height: 27"
Flower Color: Cream
Eyed Daylily: No
Flower Form: Single
Fragrance Level: NOT
Climate: 6-9

PEARL HARBOR

A 2004 Award of Merit winner (Only 12 given each year). Fabulous! This cultivar has a beautiful light cream yellow to near white flower trimmed in gold ruffles and bubbles. The gold edging is very ruffled and pleated. Up to 4-way branching; 19 bud count. An extremely vigorous grower.