RED SUSPENDERS
Currently In Stock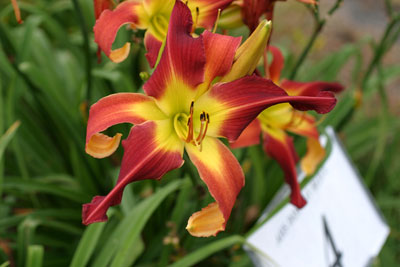 Available Photos: | High-Res | Standard |
Hybridizer: Webster
Bloom Diameter: 11"
Foliage: DOR
First Blooms: Mid-season
Last Rebloom: Late
Type: Tetraploid
Scape Height: 32"
Flower Color: Red
Eyed Daylily: No
Flower Form: Unusual Form
Fragrance Level: NOT
Climate: 3-9

RED SUSPENDERS

UFO (Unusual Form). Wow! A huge flowered and tall red giant with a very large chartreuse throat which significantly spills onto the sepals. And, this outstanding cultivar reblooms into the late season! Up to 4-way branching; 19 buds. An excellent parent! Universally grown!