TWO PART HARMONY
Currently In Stock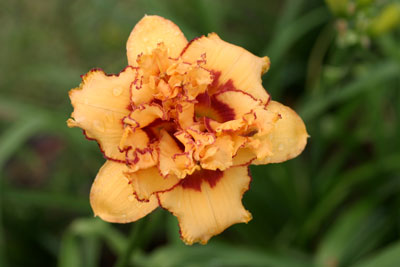 Available Photos: | High-Res | Standard |
Hybridizer: Kaskel/Trim
Bloom Diameter: 4.25"
Foliage: EV
First Blooms: Early
Last Rebloom: Late
Type: Tetraploid
Scape Height: 36"
Flower Color: Yellow
Eyed Daylily: Yes
Flower Form: Double
Fragrance Level: NOT
Climate: 4-10

TWO PART HARMONY

DOUBLE 80% of time here; less doubling in zones 5 and colder climates. A 2006 Award of Merit winner (Only 12 given each year). The unique and fabulous double flower is straw-yellow colored with a wine-red eye and matching picotee surrounding extremely ruffled petals. Up to 5-way branching; 26 bud count. Reblooms through the late season! (Of Tetra JANICE BROWN x FOOLED ME lineage.)

Special Price Available!
Order 2 or more double fans and receive a 10% discount.