WINEBERRY CANDY
Currently In Stock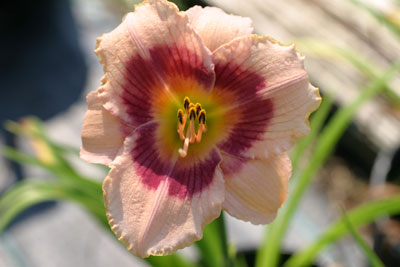 Available Photos: | High-Res | Clump Shot | Standard |
Hybridizer: Stamile
Bloom Diameter: 4.75"
Foliage: DOR
First Blooms: Early mid-season
Last Rebloom: Very late
Type: Tetraploid
Scape Height: 22"
Flower Color: Cream
Eyed Daylily: Yes
Flower Form: Single
Fragrance Level: NOT
Climate: 3-9

WINEBERRY CANDY

The 2001 Stout Silver Medal 3rd runner-up; the Stout is the American Hemerocallis Society's highest award! A cream pink flower with a wine eye. A fabulous and extremely heavy bloomer! Universally grown! Up to 4-way branching; 19 buds. Puts on a fabulous bloom show into the late bloom season for us! (A PAPER BUTTERFLY kid.) See the Clump image to get an appreciation of the high # of buds and blooms produced by this outstanding cultivar!