VISUAL INTRIGUE
Currently In Stock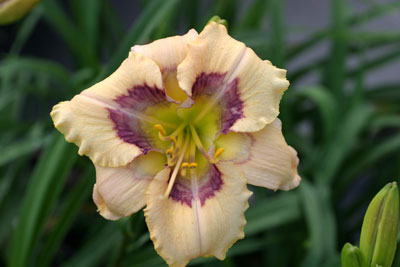 Available Photos: | High-Res | Clump Shot | Standard |
Hybridizer: Salter
Bloom Diameter: 5.5"
Foliage: SEV
First Blooms: Very early
Last Rebloom: Very late
Type: Tetraploid
Scape Height: 29"
Flower Color: Cream
Eyed Daylily: Yes
Flower Form: Single
Fragrance Level: NOT
Climate: 5-9

VISUAL INTRIGUE

Fabulous! Masses of pale ivory-cream flowers with a stunning patterned eye of blue violet and cream. Initial bloom scapes are 29" tall; rebloom scapes are up to 44" tall with up to 6-way branching; 30 buds. Reblooms into the very late season! A great rebloomer also in climate zone 5. See the Clump image for a nice cluster shot.

Special Price Available!
Order 2 or more double fans and receive a 10% discount.