LITCHFIELD TRIBUTE
Currently In Stock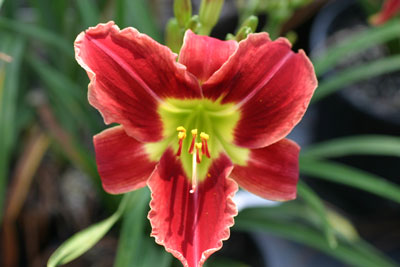 Available Photos: | High-Res | Standard |
Hybridizer: Roycroft
Bloom Diameter: 4.75"
Foliage: DOR
First Blooms: Late mid-season
Last Rebloom: Very late
Type: Diploid
Scape Height: 24"
Flower Color: Red
Eyed Daylily: No
Flower Form: Single
Fragrance Level: FR
Climate: 3-8

LITCHFIELD TRIBUTE

A spectacular glowing crimson red with darker veining and very light edges. The throat is a vibrant glowing light green. Up to 7-way branching; 36 buds. Rebloom scapes occur through the very late bloom season! For example, new rebloom scapes had their first blooms open on September 8 with new scapes just forming for late September & October blooms. Fragrant. (A FORSYTH VIVACIOUS kid.)

Special Price Available!
Order 2 or more double fans and receive a 20% discount.