GRAND STRAND GEM
Currently In Stock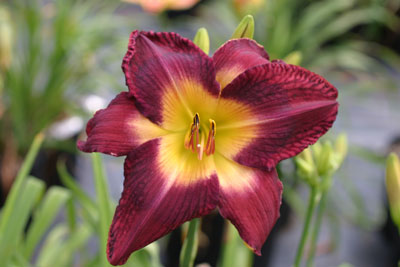 Available Photos: | High-Res | Clump Shot | Standard |
Hybridizer: Roycroft
Bloom Diameter: 6.25"
Foliage: SEV
First Blooms: Mid-season
Last Rebloom: Late
Type: Tetraploid
Scape Height: 33"
Flower Color: Burgundy
Eyed Daylily: Yes
Flower Form: Single
Fragrance Level: NOT
Climate: 3-9

GRAND STRAND GEM

Tall and sturdy scapes. It is very popular and a heavy bloomer. The flower is a rich burgundy with a faint darker purple halo and gold throat. The burgundy spills onto the stamen. Universally grown! This cultivar is a great reminder for those who have wonderful memories of vacations spent at South Carolina Grand Strand beaches! (A MOONLIT MASQUERADE kid.) The clump image shows an example of the tremendous number of scapes and buds produced by this cultivar!

This is a Bob Roycroft original, and only available a Hemingway Nursery.

This is a Bob Roycroft original. Only available at Hemingway Nursery.