INDIGO HALL
Currently In Stock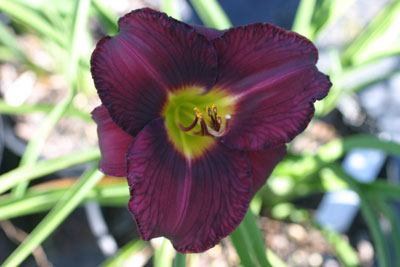 Available Photos: | High-Res | Clump Shot | Standard |
Hybridizer: Roycroft
Bloom Diameter: 4.5"
Foliage: SEV
First Blooms: Mid-season
Last Rebloom: Late
Type: Tetraploid
Scape Height: 30"
Flower Color: Purple
Eyed Daylily: Yes
Flower Form: Single
Fragrance Level: FR
Climate: 3-9

INDIGO HALL

An impressive dark grape flower with a darker grape eye and veining and a chartreuse. Up to 5-way branching; 25 buds. Fragrant. A huge seller at nursery. (A BLACKBEARD'S WINE kid.) Image of single flower taken in morning; image of clump of flowers taken in the late afternoon.

Special Price Available!
Order 1 or more double fans and receive a 20% discount.