BILL FALL
Currently In Stock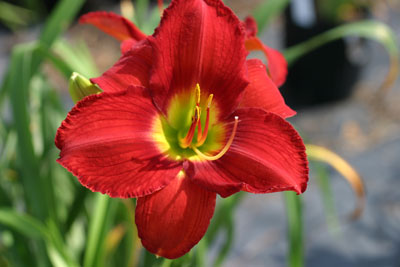 Available Photos: | High-Res | Standard |
Hybridizer: Sellers
Bloom Diameter: 5"
Foliage: DOR
First Blooms: Early mid-season
Last Rebloom: Very late
Type: Tetraploid
Scape Height: 26"
Flower Color: Red
Eyed Daylily: No
Flower Form: Single
Fragrance Level: NOT
Climate: 3-9

BILL FALL

A bright and vibrant clear red with a contrasting brilliant chartreuse throat. Many call this the best full-formed and clearest red ever! Every nursery visitor looking for this type of red is drawn to it like a magnet when it is blooming at clump strength. Has a long bloom season as it reblooms twice for us; a blooming machine! A vigorous grower with large fans, strong scapes, and great plant habits! Up to 5-way branching; 25 bud count. Universally grown! Very fertile; an excellent parent!

Special Price Available!
Order 1 or more double fans and receive a 20% discount.