RED VOLUNTEER
Currently In Stock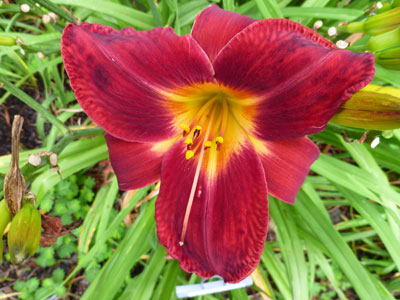 Available Photos: | High-Res | Clump Shot | Standard |
Hybridizer: Oakes
Bloom Diameter: 7"
Foliage: DOR
First Blooms: Early mid-season
Last Rebloom: Late mid-season
Type: Tetraploid
Scape Height: 30"
Flower Color: Red
Eyed Daylily: No
Flower Form: Single
Fragrance Level: NOT
Climate: 3-9

RED VOLUNTEER

A tall and large-flowered award-winner with a very showy bright candle red flower. The golden-yellow throat spills onto the sepals. Universally grown! A great rebloomer in lower climate zones. See the Clump image for a nice shot of massive blooms taken late on a hot summer afternoon.