JUST FOR BOBBY
Currently In Stock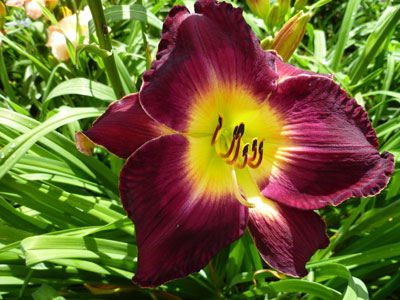 Available Photos: | High-Res | Standard |
Hybridizer: Roycroft
Bloom Diameter: 6.5"
Foliage: SEV
First Blooms: Mid-season
Last Rebloom: Late
Type: Tetraploid
Scape Height: 35"
Flower Color: Purple
Eyed Daylily: No
Flower Form: Single
Fragrance Level: FR
Climate: 4-9

JUST FOR BOBBY

A tall and stunning large purple flower with a large lighter halo. The purple spills onto the stamen and pistil which contrasts nicely with the yellow throat in the background. Fragrant. Vigorous; produces very large fans. Has very good branching and bud count, with many blooms. Proving to be an excellent parent producing vigorous seedlings with great plant habits. Fertile both ways. (A TUPAC AMARU kid.) Named for my oldest son, Bob Roycroft, Jr.