EDGE OF DISTINCTION
Currently In Stock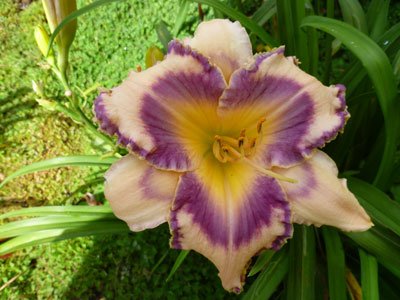 Available Photos: | High-Res | Standard |
Hybridizer: Roycroft
Bloom Diameter: 5.75"
Foliage: EV
First Blooms: Mid-season
Last Rebloom: Very late
Type: Tetraploid
Scape Height: 27"
Flower Color: Cream
Eyed Daylily: Yes
Flower Form: Single
Fragrance Level: FR
Climate: 6-9

EDGE OF DISTINCTION

Very special! A stunning orchid cream with a golden throat, a very large dark grape eye, and a huge double edge of dark grape bordered by a golden braid. Fragrant. Reblooms into the very late season when it oftentimes has extra segments. So, it may have the potential for breeding double flowered daylilies with double edges! Fertile both ways. Fragrant. (A CLASSIC EDGE kid.)

Special Price Available!
Order 1 or more double fans and receive a 20% discount.