RISE OF THE PHOENIX
Currently In Stock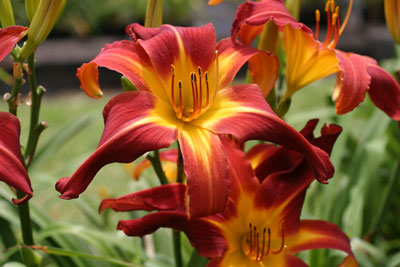 Available Photos: | High-Res | Standard |
Hybridizer: Cribb
Bloom Diameter: 8.5"
Foliage: SEV
First Blooms: Mid-season
Last Rebloom: Very late
Type: Tetraploid
Scape Height: 34"
Flower Color: Red
Eyed Daylily: No
Flower Form: Unusual Form
Fragrance Level: NOT
Climate: 3-9

RISE OF THE PHOENIX

UFO (Unusual Form). Fabulous! Much admired at the 2007 American Hemerocallis Society Convention which was held in Minnesota! The person who grew it in their zone 3/4 tour garden said, "Loved it! It multiplied well and was a huge, vigorous plant for the Convention. The intense color was one that many folks noted as they walked through the garden. I would recommend it for cold zones." A fiery red flower with a large gold throat rising into the midribs. This tall and large flowered cultivar will grab your attention! Up to 4-way branching and 25 bud count. It reblooms strongly into September in our nursery's display garden. The fans are the size of corn stalks! (A Red Suspenders x Point Of View kid.)

Special Price Available!
Order 1 or more double fans and receive a 20% discount.