WHOA BABY
Currently In Stock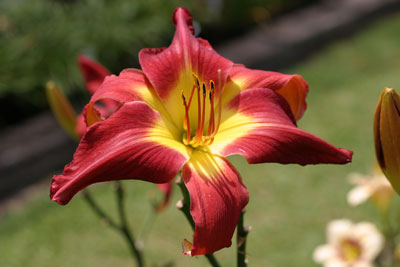 Available Photos: | High-Res | Standard |
Hybridizer: Cribb
Bloom Diameter: 9"
Foliage: SEV
First Blooms: Mid-season
Last Rebloom: Late
Type: Tetraploid
Scape Height: 45"
Flower Color: Red
Eyed Daylily: No
Flower Form: Unusual Form
Fragrance Level: NOT
Climate: 3-9

WHOA BABY

UFO (Unusual Form). Spectacular! This is Cindy Cribb's tallest introduction to date and a must have if you want to add height and striking color to your garden. The fans are the size of corn stalks! A gorgeous apple red with a yellow diamond shaped throat. Reblooms into the late bloom season for us. "WHOA BABY" burst out the moment Cindy laid eyes on this giant. (A Star Of India x Persian Ruby kid.)

Special Price Available!
Order 2 or more double fans and receive a 20% discount.