JUST FOR GLORIA
Currently In Stock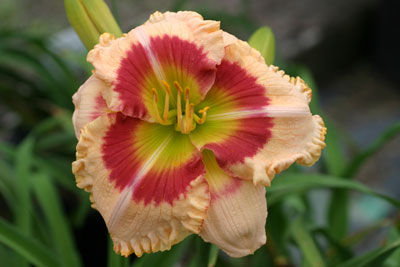 Available Photos: | High-Res | Clump Shot | Standard |
Hybridizer: Roycroft
Bloom Diameter: 5.25"
Foliage: SEV
First Blooms: Mid-season
Last Rebloom: Very late
Type: Diploid
Scape Height: 22"
Flower Color: Cream
Eyed Daylily: Yes
Flower Form: Single
Fragrance Level: FR
Climate: 4-8

JUST FOR GLORIA

This extremely heavy bloomer is one of my best diploid introductions ever! This fabulous cultivar has up to 4-way branching; 33 bud count. The beautiful flower is an orange sherbet cream with a bold deep rose eye and a glowing green throat. It is also diamond dusted! Very ruffled; one of our heaviest bloomers ever! Fertile both ways. An excellent parent.

Late and very late reblooms sometimes have extra segments which leads me to believe that it may be a possible parent for double flowered seedlings. For example, see the High-Res image with extra segments; a shot of a rare full double bloom. And, see the Clump shot.

A photo of this cultivar is on the cover of our 2007-08 catalog. An Angel Rodgers kid.