TRIBUTE TO JOE
Currently In Stock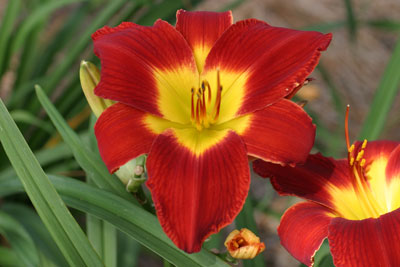 Available Photos: | High-Res | Standard |
Hybridizer: Roycroft
Bloom Diameter: 6.25"
Foliage: SEV
First Blooms: Mid-season
Last Rebloom: Late
Type: Tetraploid
Scape Height: 29"
Flower Color: Red
Eyed Daylily: No
Flower Form: Single
Fragrance Level: NOT
Climate: 3-9

TRIBUTE TO JOE

Up to 5-way branching; 30 buds. The very best of the extremely vigorous Super Giant seedlings that I've seen thus far. A fabulous sunfast red flower with a chartreuse throat. Reblooms into the late bloom season for us. The fans are the size of corn stalks! Universally grown. Parentage-- [(TOM WISE x POINT OF VIEW) x (TOM WISE x POINT OF VIEW) x PASSION FOR RED] Fertile; an excellent parent.